Fast 4wd organises Recovery Access Points at numerous community venues across the borough where people seeking support can make contact with recovery support volunteers.  Fast4wd volunteers help with:
Learning
Development of skills
Responsibility
Positive changes
Development of confidence
Ability and independence outside of treatment services
Ability to operate more independently in society.
Recovery Support Volunteer training
All our volunteers receive Recovery Support Volunteer training which prepares people wanting to become recovery support volunteers in our Fast 4wd project.
Recovery access Point training is a rolling 5 day training programme covering:
Roles and responsibilities
Working professionally
Interpersonal communication
Conflict resolution
Safe working practice
Policies and procedures
Commonly presented issues including initial awareness of drug and alcohol misuse, housing and homelessness, benefits, finance and mental health.
Get in touch
If you are in treatment for substance misuse or are in recovery and you would like support OR you would like to become a Volunteer  – Please ring Steve Foden 01254 583957 or call in to the Boulevard Centre  between 10 – 4pm Monday to Friday. Alternatively you can email Steve Foden at steve.foden@communitycvs.org.uk
Blackburn with Darwen Suicide Safer Communities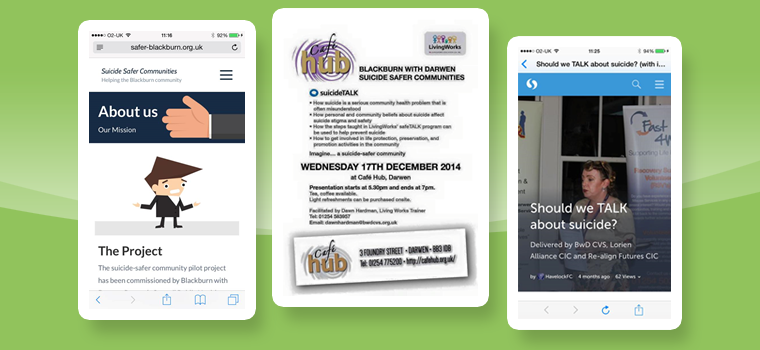 We're working to make Blackburn with Darwen a suicide safer community. This means building a knowledge base, raising awareness and creating a skill set. We want to have more people who can be turned to in times of need. People who can understand and know how to help and where more help can be found.
Our volunteers are trained in suicide first aid.
We aren't offering therapy, but a place to talk with someone who cares, someone who is comfortable talking about suicide.
The suicide-safer community pilot project has been commissioned by Blackburn with Darwen Borough Council Public Health Directorate. The aim of the service will be to develop a sustainable infrastructure of a Suicide Safer Community model in Blackburn with Darwen Borough, with support from the Suicide Prevention Strategic Group.
The commission was awarded to the partnership of Blackburn with Darwen CVS and Re-Align Futures CIC. Steve Foden is the Blackburn with Darwen CVS lead and is responsible for the volunteer aspect of the project.
Training is provided by Re-Align Futures CIC which is Tony Cox and Dawn Hardman, we are both registered with Mental Health First Aid England and LivingWorks to deliver these internationally recognised training courses.
Get in touch
Please contact Bev Marsden  for more information, to get support, or if you would like to become a volunteer at bev.marsden@communitycvs.org.uk
Website link http://safer-blackburn.org.uk/