Community champions from across Blackburn with Darwen were crowned in a ceremony at the 2021 Community Volunteer Awards held in King George's Hall.
20 awards were presented to people and groups who go the extra mile to support others, help make their neighbourhoods better places to live.
The awards were hosted by BBC Radio Lancashire breakfast show star Graham Liver.
A record-breaking 416 nominations were received, which is the highest number ever for the awards, showing the gratitude that people feel for all the work put in by the borough's volunteers and helpers over the past year.
In the last year our borough's community champions rose to the challenge more than ever in response to the pandemic and were a lifeline for so many people who needed extra help.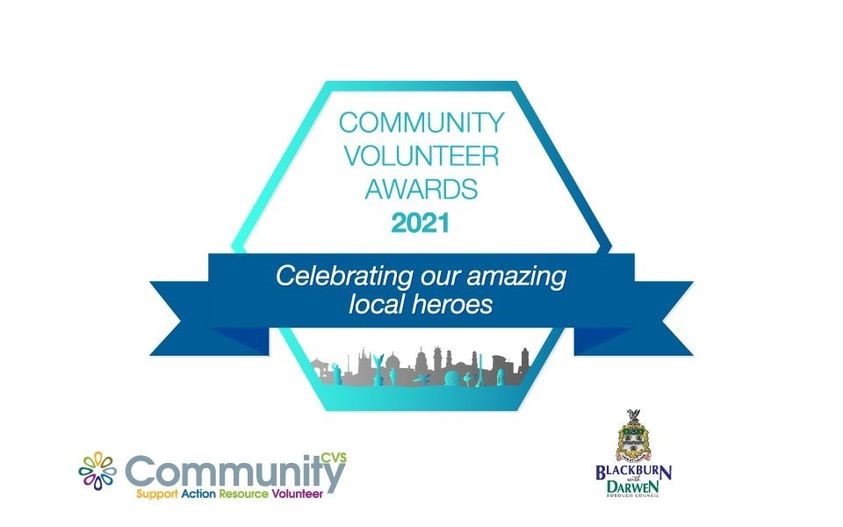 The Community Volunteer Awards celebrate the wonderful and dedicated people and groups who make a difference in Blackburn and Darwen year in, year out, and help to make it a better place.
The awards were not held last year due to the pandemic, making this year even more special for the volunteers and the countless people they have helped in the last two years.
The Community Volunteer Awards were jointly arranged and hosted by Blackburn with Darwen Borough Council and Community CVS, with support from local businesses and community organisations.
Leader of Blackburn with Darwen Borough Council, Councillor Mohammed Khan, said in his speech:
"These have been, and still are, uncertain and strange times and we need our local heroes and helpers more than we ever have. Over the past year we have seen so many people going above and beyond for others and making a huge difference and it is more important than ever that we celebrate them.
"So many people have struggled over the last year with the huge changes in their lives and in our borough and the world, and all the wonderful volunteers here tonight were a real lifeline to so many, keeping them going, helping them in their day to day lives and showing the absolute best of Blackburn with Darwen.
"I can say with complete honesty that it was extremely difficult to narrow down these incredible nominations. Every volunteer and community champion here tonight deserves recognition for their dedication. You are all truly the best of us, devoting yourselves to other people in a way that is absolutely inspiring.
"We should be really proud that we have so many people in Blackburn with Darwen who work hard every day to help make it a better place."
Garth Hodgkinson, Chief Executive of Community CVS, said:
"the event showcases what a fabulous contribution that volunteers make to our daily lives and we would all be the poorer without the work they do. As a borough and as a country, we need to invest in volunteering in every walk of life and invest in our communities. I would like to thank our sponsors from across the commercial, public and voluntary sectors, without whose support, this event would not have taken place."
Denise Park, Chief Executive of Blackburn with Darwen Borough Council, added: "This was a fantastic evening and it was wonderful to see so many of our amazing volunteers commended for the tireless work they do.
"It was even more special to see everyone come together after a longer break than usual and to see so many people who are dedicated to giving their time to support others and make the borough a better place. Well done to everyone!"
Sponsors of the 2021 Community Volunteer Awards are: Star Tissue, Blackburn Rovers, Care Station, ELHT, CCG, Interfaith Forum, BwD Healthwatch, The Wish Centre, Age UK, BwD Carers, CGL, The Hive, Suez, Blackburn College, Trueman Change, Voice, McDonalds, Nightsafe, Herbert Parkinson and PCC – Our Lancashire.
Many local organisations and businesses also contributed time, effort and resources to make the Community Volunteer Awards presentation evening happen. They all wanted to give something back and celebrate the valuable contribution that volunteers make within Blackburn with Darwen.
Here is the complete list of winners for the Community Volunteer Awards 2021: –
Health and Wellbeing Award:
Individual – Dorothy Greenwood.
Group – Age UK Blackburn with Darwen.
Prosperity, Learning and Employment:
Individual – Janet Ross.
Group – Asian Carers Group
Grass Roots Community Action:
Individual – Hannah Goldthorpe
Group – Radio Hospitals in Blackburn
Young People's Award
Individual – Fiona Dunn
Group – Nightsafe
Renee Black Award:
Blackburn Central High School
Environment Award:
Individual – Peter Grogan
Group – Whitehall Park Supporters Group
CVS Special Award for Outstanding Service:
Elizabeth Taylor and Graham Jones
Culture, Leisure and Sporting Life Award:
Individual – Craig Walsh
Group – Blackburn with Darwen Bowls Partnership
Lindsay Dunn Award:
Individual – Aisha Mehboob
Group – Neighbourhood Community Action
Community Involvement Award:
Good Neighbour Award:
Volunteer of the Year:
Lifetime Achievement Award:
We would like to thank everyone, who was nominated for their voluntary efforts and to the thousands more, who on a daily basis help to improve people's lives across the Borough and make our communities a better place to live.